Founder and Product Formulator of Skinesis
"Chapman is responsible for the complexion of wealthy women in the know, the sort of women who have dermatologists in every port… Chapman's hands are exceptional. So much so, in fact that they're now insured for £1million." THE TIMES
The power of a hands-on approach to skincare
With a global reputation as London's most sought-after facialist, Sarah Chapman understands how to get great skin. Her 20 years of experience, advanced training in cosmetic science and distinctive hands-on massage is what sets her apart in the industry.
"A fount of all things beautifying, she is an excellent mix of cosmetics junkie and no-baloney-accepted-here sceptic; reassuringly she believes in science as much as she does in luxury." THE TIMES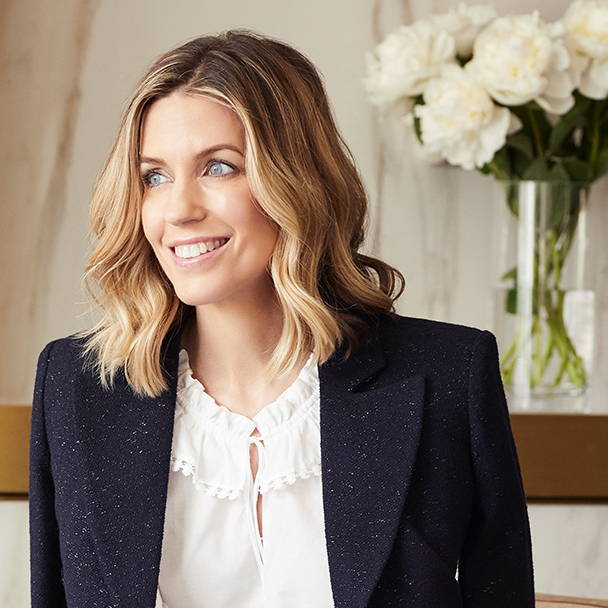 Sarah's long-established authority in the industry comes from her loyal following of discerning clientele including many of Hollywood's most well-known faces. In 2015, she opened her discreet Skinesis Clinic in Chelsea, London where the transformative results of her treatments quickly established it as the destination for radiant, healthy, red carpet-worthy skin.
Dubbed the queen of high-tech facial perfection, Chapman is famous for her straightforward, science-based approach to caring for skin. Stem cell collagen therapy, peels, microneedling, radiofrequency, IPL and fractional laser are all part of the clinic's offering to amplify Sarah's incredible skin results.
Equally, she believes in the restorative power of human touch. Her bespoke treatments focus on state-of-the-art technology and active formulas blended with her signature massage techniques to deliver both instant and long-term results.
High-performance skincare based on 15,000 facials a year
Sarah launched her award-winning Skinesis skincare range in 2008, bringing her coveted treatment room into your home. Her hands-on experience with treating thousands of skin conditions inspired these innovative formulas that target real-life concerns.
"Our Face to Formula approach identifies the challenging and varied skin conditions we treat every day and pushes the boundaries of skincare."
Backed by science. Blended with botanicals.
Based on the best research and development available in dermatology today together with 20 years of industry expertise, these cutting-edge, active skincare formulas promise transformative results and the legendary Skinesis glow at home.
Peptides, stem cells, antioxidants, vitamins, anti-pollutants, digital defenders, optical diffusers, omega oils, enzymes, micronutrients and skin-brighteners combine with high-performance botanicals and pure essential oils in luxurious formulas.
"Sarah's on a mission to make us all look more youthful. She may actually be magic." TATLER