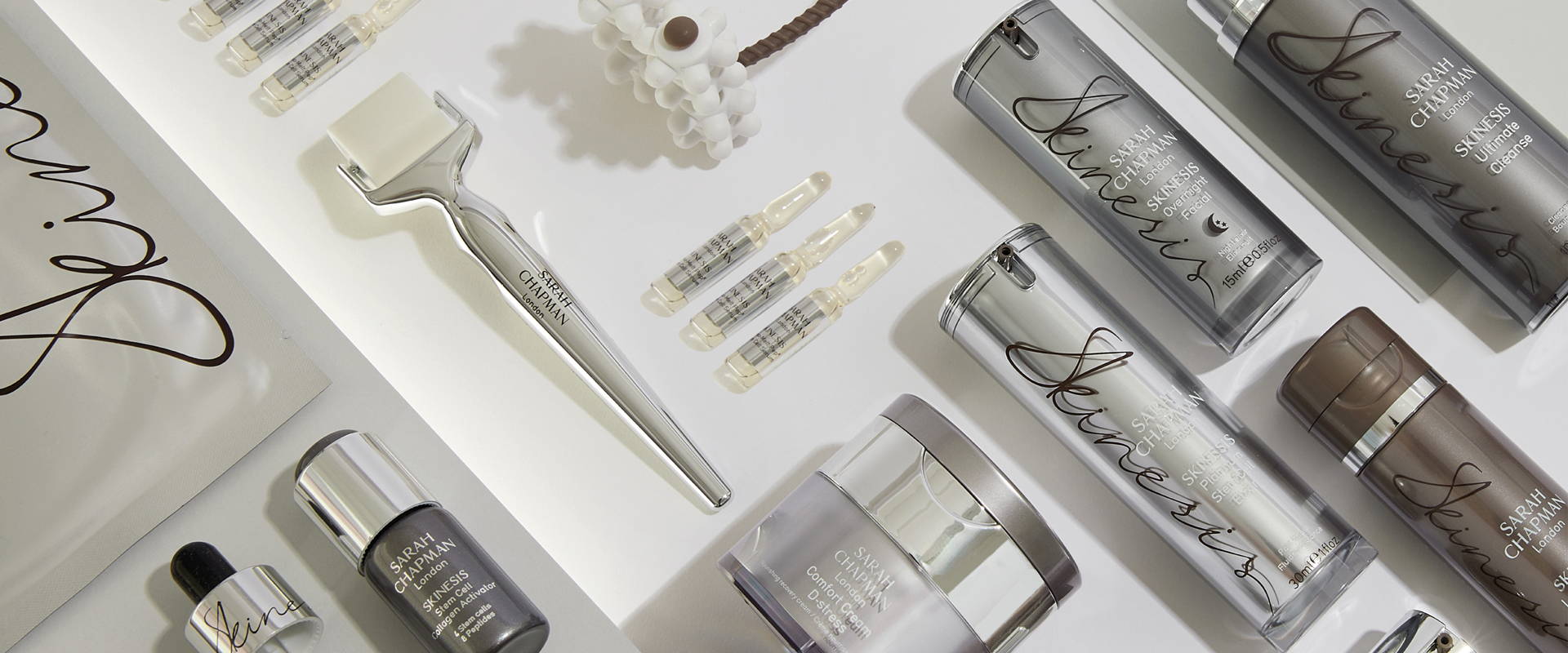 Sarah's long-established authority in the industry comes from her loyal following of discerning clientele including many of Hollywood's most well-known faces. In 2015, she opened her discreet Skinesis Clinic in Chelsea, London where the transformative results of her treatments quickly established it as the destination for radiant, healthy, red carpet-worthy skin.
Dubbed the queen of high-tech facial perfection, Chapman is famous for her straightforward, science-based approach to caring for skin. Stem cell collagen therapy, peels, microneedling, radiofrequency, IPL and fractional laser are all part of the clinic's offering to amplify Sarah's incredible skin results.
Equally, she believes in the restorative power of human touch. Her bespoke treatments focus on state-of-the-art technology and active formulas blended with her signature massage techniques to deliver both instant and long-term results.
Innovative, Award-Winning Skincare
"My mission was to create a truly innovative skincare range that delivers beautifully healthy, radiant and rejuvenated skin. Designed to target the real skin concerns that I see every day in my clinic, I sought to include high-potency active ingredients such as vitamin A, peptides, stem cells and collagen promoters to achieve dramatic results both on a cellular and surface level. My own extensive skin expertise and cosmetic science experience means I can combine the latest scientific advances with cutting-edge ingredients to deliver targeted formulations that address every skincare concern." - Sarah Chapman
At the core of Skinesis are your daily essentials, formulated to cleanse, treat, hydrate and protect according to the day-to-day needs of your skin. This includes our award-winning, all-time bestselling hero formula Overnight Facial, a product now synonymous with Sarah Chapman Skinesis.
To target specific concerns and both support and mimic Sarah's work done in-clinic at home, Skinesis offers a range of bespoke solutions. The Meso-Melt Infusion System is lauded by both Sarah's clients and skincare enthusiasts for its easy-to-use, microneedling tool that tops up the plump, smooth and dewy skin results of the in-clinic treatment.